---

---
Thank you to our generous Sponsors for our 2023 Heart of A Champion Spirit of Youth Gala!
Legend Sponsor
Champion Sponsor
Superstar Sponsor
---
---

The NDY Health + Recreation Center has been nominated for a Los Angeles Business Journal 2019 Commercial Real Estate Award in the "Tenant Improvement" category. NDY, contractor PCL, and architecture firm Perkins+Will are the named nominees. Look for our write-up in the February 18th edition of the Los Angeles Business Journal!
---
Who We Are
Established in 1975, New Directions for Youth (NDY) is a comprehensive youth development agency that provides direct services and programs to more than 3,000 at-risk youth and families annually. NDY has provided critically needed services to more than 200,000 youth, the majority of whom come from very low-income families residing in underserved geographic areas including North Hollywood, Van Nuys, Panorama City, North Hills, the economic Enterprise Zone of Pacoima, Sun Valley, and contiguous areas. Our approach is holistic: we recognize that our clients' needs are extremely complex and we have worked to develop an array of services, including both prevention and intervention programs, to meet these diverse needs.
---
---
Our Mission
New Directions for Youth, Inc. is dedicated to providing comprehensive programs and services to at-risk youth and their families.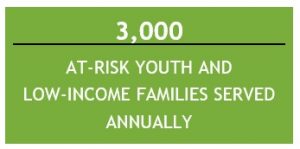 ---
POPULATION SERVED
During the past year, New Directions for Youth has provided direct services to more than 3,000 young people, ranging in age from 8 to 21, and their families. Approximately 70 percent of NDY clients are Latino, 10 percent are African-American, 10 percent are White/non-Latino, and the remainder are from other ethnic backgrounds. Greater than 50 percent of the families who live in the service area have incomes below the poverty level. Families living in our local communities are statistically larger than average and more likely to be headed by a single parent who lacks a high school diploma or equivalency. The youth referred to NDY are either involved in or identified as being "at-risk" of gang affiliation, substance abuse, physical and / or sexual abuse, family dysfunction, teen pregnancy, poor school performance, and juvenile delinquency.
---
WHAT MAKES NDY UNIQUE?
NDY's services are provided absolutely free of charge to our clients. Many of these clients cannot be mainstreamed into traditional youth development programs because of a prior arrest, pregnancy, gang affiliation, and/or they cannot afford the dues and fees of other youth organizations. NDY is the only safe haven for many of these troubled young people.